Television: My Big Redneck Vacation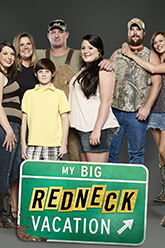 Type: TV show
Client: Pink Sneakers Productions
Date: April 2013
LSW served as the location scout and manager for this episode of My Big Redneck Vacation, which aired in Season 3. Film locations included Monument Valley and Grand Canyon, Arizona.
Television: Running Wild With Bear Grylls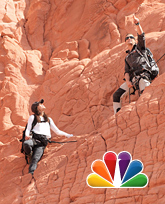 Type: TV show
Client: NBC / Electus LLC
Director:
Date: August 2015
With guest Michelle Rodriguez
As location manager for Bear's journey producers David Pearce and Stani Groenewag, LSW served as a liaison to the Valley of Fire State Park Chief Rangers, securing all necessary film permits for this unique and physically demanding episode.
Television: Fast & Loud
Type: TV show
Client: Discovery Channel / Pilgrim Studios
Director:
Date: 2015 Season 5 Episodes 14 & 15
LSW served as a location scout and manager for this 5-day journey traveling westward on historic Route 66 from Albuquerque, New Mexico, to Las Vegas, Nevada — with humorous encounters along the Mother Road. Richard and Aaron drove "Kitt," the 1982 Pontiac from Knight Rider TV series. LSW handled all film permits from New Mexico through Arizona into Nevada, working with private business owners, the Nevada Highway Department, and Clark County.
Television: Nik Wallenda's Grand Canyon Skywire Walk
Type: TV show
Client: Nik Wallenda
Director:
Air Date: June 23, 2013 (live)
LSW served as location scout and manager for Nik Wallenda, who needed an optimal site for an 18,000-foot-long, 2-inch-thick, 5.5-ton cable so he could fulfill his dream of a Grand Canyon high-wire crossing. LSW found a site within the Little Colorado gorge and assisted in all phases of the permitting process, providing a liaison between the Wallenda team, Discovery Channel, NBC Peacock, and the Navajo Nation Parks and Recreation Department and Navajo Nation. LSW also helped coordinate the environmental impact statement and the archeological clearance process to secure permission with the tribe. This project required 11 months of negotiations. Other responsibilities included researching and recommending essential local vendors to provide helicopter support, on-site catering, lodging, transportation, security, and on-camera talent for interviews. This global event for the Discovery Channel set two new records — one for worldwide viewership of a live TV show and one for Tweets during a live TV show. It was broadcast to 240 countries. The success of this project can be attributed to the "Never Give Up" attitude of the Wallenda team and its partners!